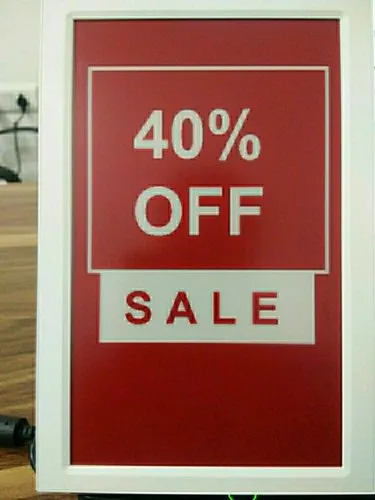 E-ink displays, also known as electronic paper displays, have revolutionized the way we read and view information. Unlike traditional displays, e-ink displays use electronic ink, a type of digital ink that mimics the look and feel of real paper. This technology has made it possible to create devices that are easy on the eyes, energy-efficient, and highly portable.
E-ink displays have transformed the way we read and view information.
Their easy-on-the-eyes technology, energy efficiency, portability, and versatility have made them popular in e-readers, smartwatches, and other electronic devices. While they have some limitations, such as limited color palettes and slow refresh rates, their many advantages make them an attractive option for a wide range of applications.
How E-ink Displays Work
These displays are made up of millions of tiny capsules filled with electronic ink. Each capsule comprises a positively charged white element and a negatively charged black particle. When an electric field is applied, the particles move to the top or bottom of the capsule, creating a black or white pixel. Once the pixel is created, it remains in place until another electric field is applied, allowing for a static image that requires no power to maintain.
Advantages of E-ink Displays
Easy on the Eyes: E-ink displays have a matte finish that mimics the texture of paper, making it easier to read and reducing eye strain. Unlike traditional displays that emit blue light, e-ink displays do not emit any light, making it easier to read in bright sunlight or low-light conditions.
Energy Efficient: E-ink displays consume very little power, making them ideal for devices that require long battery life. Because the pixels are static and do not require power to maintain, e-ink displays only use power when the screen is updated.
Highly Portable: E-ink displays are thin, lightweight, and highly durable, making them ideal for portable devices like e-readers, tablets, and smartwatches. The matte finish also makes them less prone to scratches and fingerprints.
Versatile: E-ink displays can be used for a variety of applications, including e-readers, smartwatches, digital signage, and electronic shelf labels. They can also be customized to display different fonts, sizes, and styles, making them highly versatile.
Qualities of the E-ink Display devices supplier in Chandigarh
Quality Products: The supplier should offer high-quality E-ink display devices that are durable and produce clear and sharp images. The display should have a good contrast ratio, high resolution, and a wide viewing angle.
Range of Products: The supplier should offer a wide range of E-ink display devices in different sizes, resolutions, and formats to suit your needs. They should also offer customized solutions for specific applications.
Competitive Pricing: The supplier should offer competitive pricing for their products, without compromising on quality. They should also provide transparent pricing with no hidden costs.
Timely Delivery: The supplier should be reliable and deliver products on time. They should have a good track record of fulfilling orders without delays or issues.
After-Sales Service: The supplier should provide after-sales support and service to ensure that the products are functioning correctly and any issues are resolved promptly.
Technical Expertise: The supplier should have technical expertise in the field of E-ink display devices, and be able to provide advice and guidance on product selection and customization.